It's always been important to play your instrument 'in tune'. But what does 'in tune' mean?
Instruments like guitars and pianos are tempered (which basically means that you can play in all keys, but slightly and equally out of tune in each; as opposed to playing perfectly in tune in only one key… which is how things were before tempered tuning).
So, playing in tune is a relative thing. It's not only always approximate to some degree, it's also subjective to the individual ear. Most instruments have to conform to the tempered piano (or fretted instrument), and the other instrumentalists are usually trying to adjust by getting as close to that tuning as they can.
Even with, say, a string group, which doesn't have to conform to a piano, our (and the players' ) ears are used to tempered tuning as the sound of 'in tune'.
When I first started to play the bass professionally and realized it was crucial to play in tune, the only electronic tuners that were available were encased in boxes the size of toasters, cost many hundreds of dollars, and were affordable only by recording and rehearsal studios that rarely let in scruffy young musicians like me.
So, like most musicians at the time, and almost all who came before us, I had to get my instrument in tune myself. This was actually a great process because, with stringed instruments, you have to learn intonate your guitar.
Intonating in this case means getting the string lengths and heights adjusted correctly, the bridge and the nut in the right place, etc. And you did this all by ear and by yourself, without automated help.
Every once in a while I'd get a session in a professional studio that had one of those big, expensive tuners available. I'd eagerly corner it and check the intonation of my bass… which actually was usually pretty close or even right on.
If you think about it though, in a larger sense this means that at that time everybody tuned their own instruments themselves… which made everyone's tuning slightly different and individual. Yes, tuning was individual.
This could have horrible-sounding consequences for those who couldn't or wouldn't tune up or intonate their instruments.
On the other hand, when you wonder why records sounded different 'back in the day'. well… this was a big part of it. Back then the band sound was a combination of individual ideas of what was 'in tune'. When a band had compatible (not identical) conceptions, it could be glorious. When they didn't, or didn't care… not so much.
Now we all tune to same notes on our $12 digital tuners. We all play the same 'A', the same 'C'. So pop music is much more in tune now… but it's all the same tune!
In many ways this has made life much better and easier for musicians – and often for listeners. And overall things are more in tune. We're dependent on these cheap-to-inexpensive digital tuners and there's no going back.
But next time you wonder why a current recording doesn't have the same fullness, the same body… Well, a highly functional tuner now costs about the same as a book (remember them?).
The evolution of the methods and economics of tuning are a much bigger part of why music sounds the way it does now than most people realize.
Thanks for reading! Let me know your thoughts, additions, disagreements in the Comments section below: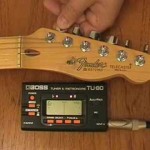 And please share on facebook etc. by clicking these tabs –