There's one fact of songwriting life that I've never been able to get around. It's this: The songs just don't write themselves.
There's a part of me that wants to avoid the heavy mental lifting and investment of time that's involved in writing new songs and developing as a songwriter, in keeping the writing muscles working and the craft expanding.
But when I avoid songwriting, which I sometimes do (and I'm fairly prolific!), after a while I realize something…
I don't have any new songs.
And I'm unenthused by the ones I've already got developing. Which is even worse. It's worse because my evaluation is not really a judgement on the quality of my song ideas. It's a reflection of my desire to avoid putting in the time it takes to make them solid, complete songs.
And I actually enjoy songwriting! Who can fathom my perverse songwriting mind? But there it is.
And yet the fact remains… My songs just refuse to write themselves.
Thanks for reading! Let me know your thoughts, additions, disagreements in the Comments section below: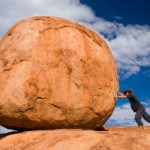 And please share on facebook etc. by clicking these tabs –