There's a documentary on Netflix – 'The Center Will Not Hold' – about the writer Joan Didion. Didion is a gifted, tenacious writer who's been one of the most perceptive chroniclers of the last fifty-plus years in America, in both her non-fiction and fiction.
The documentary takes you through her life, her work, and her times in an admiring, uncritical way (the doc was directed by her nephew, Griffin Dunne). Though there are some gaps due to that, the relaxed intimacy of the interviews compensate, and the film provides a vivid tour through her writing life.
Didion has lived through turbulent times. She's had a lot of success and acclaim but, like most of us, has suffered ups and downs and personal tragedies, including, in her case, the loss of her daughter and her longtime husband within a short period of time.
Now 83, she's still writing (or at least she was when this doc was made a few years ago). That's what came through to me most strongly – she wrote her way through all the events of her life and her times; all the ups, all the downs. No matter what, she'd "get up, have a coca cola, and start work".
It's a habit. It's a routine. It's a practice. It can be like an addiction; something you have to do to get right. It's just what you do, if you're a writer who's going to write.
Maybe Didion is an extreme case. But her commitment to writing is not glorified in this film. It's a simple fact. It's what she does, come hell or high water.
For someone like me, who got serious about writing relatively late, this is helpful. You take what's inside you and what's outside you and find some way to work through it, directly or indirectly, by writing.
It's not about feeling like doing it. After a tragic loss, does anybody feel like doing anything? But if you have the habit, the routine, the practice, soon enough you'll get back to your work, grief and all. Even if you feel totally numb, something – some emotion – will emerge.
Thanks for reading! Let me know your thoughts, additions, disagreements in the Comments section below: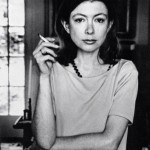 And please share on facebook etc. by clicking the tabs beneath the video –