As much as we might prefer it not to be so, the quality of a performance or recording of a song can't help but have an effect, positive or negative, on the perception of that song. This goes for even experienced listeners who are used to 'hearing past' weaknesses in performances.
For most of us, with tempos it's natural to rush (speed up) or drag (slow down) – sometimes both – as we play a song. And occasionally songs do have sections that sound better when played faster or slower than the previous or following section.
But I've found it to be true that most songs sound best at a steady or relatively steady tempo. And it's actually a real skill to keep a piece of music at the same tempo throughout. Musicians call it 'having good time'.
Most successful recordings have a steady tempo and a steady groove. There's a reason why – no matter what the genre, momentum is created, and it's easier for the listener to 'feel' the song… and move their body to it as well.
The rhythm carries it, and the building up of a steady rhythm, underneath the words, melodies, and harmonies, will usually really help your song. This doesn't mean that it has to sound 'metronomic'.
Problems in timing are more  often exposed in live performance than in finished recordings. Most recordings these days are done in computers, using loops or metronomes, which stay at the same tempos, as guides. Not to mention that, post-performance, it's relatively easy to fix timing issues. This makes 'good time' a lot easier to attain, so current recordings usually end up being pretty tempo-consistent.
When playing live, though, it's easy to get excited and speed up, or downshift and slow down. It feels right, if feels natural. But I've found it's often not what's best. A solid tempo (and a steady groove too) can be one of your best friends in putting your song across.
Even if you understandably have no interest in sounding 'metronomic', it's actually still worth playing your songs a couple of times with a click track (metronome) or an appropriate loop, just to hear where you tend to rush or drag. It's a reality check. It's also not a bad idea to record this and listen back to diagnose your tempo tendencies… as well as other tendencies… (recording is audio CSI).
This is also useful because when you do record for real and decide to play with a click track – which isn't easy for most people to do without practice –  you'll be ready.
If you're not into steady tempo, try it… you might like it. I promise you, most of the people whose writing you admire have dealt with this and made it work for them. If you haven't already, so can you.
Thanks for reading! Let me know your thoughts, additions, disagreements in the Comments section below: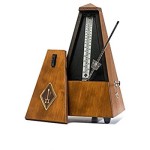 And please share on facebook etc. by clicking these tabs –